Radiation Oncology, Medical Oncology
Your Pet Was Diagnosed with Cancer – Now What?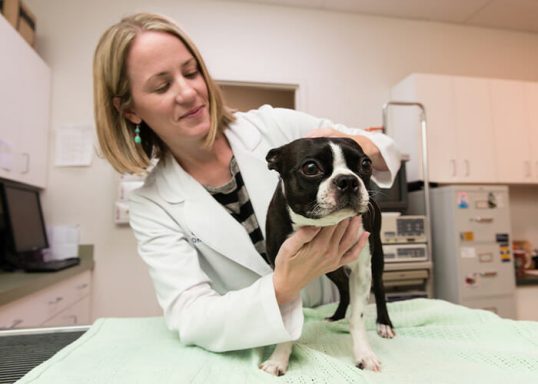 Cancer is the leading disease-related cause of death of cats and dogs in the United States. Nearly one in every four dogs and one in every five cats will develop cancer in their lifetime. The good news is that there are many options for treatment that can help pets live longer, more comfortable lives.
The following is intended to provide initial information on how to move forward after receiving a diagnosis of cancer in your pet. Your veterinary care team will be with you every step of the way.
Consult with a Veterinary Oncologist
Your oncologist will partner with your primary veterinarian to discuss your pet's medical history, review lab results, and facilitate an exam and treatment options. The initial consultation with your pet's oncologist will often start with a discussion regarding your pet's history and exam. The oncologist will discuss a variety of treatment options, potential adverse effects, expected outcomes, and financial considerations.
Tips for your appointment:
Bring a notebook along to your visit so that you can take notes about this discussion. Your oncologist will encourage questions to enable working together to achieve the care you desire for your pet.

Consider having a family member or friend join you for the appointment. The topic of cancer is often difficult to discuss and having a familiar face with you to aide in understanding can be invaluable.
Overwhelming emotions of fear, doubt, and confusion can impact how you make decisions regarding treatment. It is important to understand there is not a right or wrong way to move forward with treatment. Every treatment recommendation is based on your pet's diagnosis, how advanced their cancer is, and the benefit expected from each therapy.
Consider Treatment Options
As the first and subsequent visits can be stressful, there are potential questions to consider during your initial conversation. Because there is more than one way to treat a particular cancer, it is likely you will have more than one treatment option presented. You will want to have enough knowledge about the options to make an informed choice.
Your veterinary oncologist will develop a treatment plan which may include surgery, chemotherapy, and/or radiation therapy, along with supportive treatments. This plan will likely involve continued collaboration with your veterinarian and additional veterinary specialists. Each treatment plan typically has several pros and cons for every option. These will be discussed in detail and the partnership between you and your pet's oncologist will lead to the best recommendations for your pet. You and your veterinary oncologist share a common goal, supporting and developing a good quality of life while undergoing cancer treatment.
You'll want to think about your individual goals and expectations. Do you feel that if overall quality of life can be preserved that you want to try for a cure or a remission? If temporary side effects are likely, does this change your decision? Alternatively, do you feel that simply making your pet as comfortable as possible is the best choice for you?
Questions to Consider
What are all the different treatment options, including alternative or complementary treatments?

What are the side effects of each treatment?

What are the benefits of each treatment?

What is the time, travel, and cost commitment to obtain these treatments?

What level of care will I need to provide at home (medications, wound care, etc.)?

Do I have a support network who can help with these commitments?
Be Your Pet's Guardian
If you are like most pet lovers, you may still have difficulty believing you must deal with cancer at all. Disbelief is a normal reaction, but it's important to push through so you can help your pet. Changing your thoughts from, "I can't believe this," into, "I can deal with this," is a crucial step.
Pets are dependent on us, and pets with cancer are particularly vulnerable. As your pet's guardian, you will now face many confusing decisions, and you will need to stay calm to choose wisely. When under great stress, our brains don't handle information well. We tend to narrow our focus to the topic causing the distress, make up "facts," and simplify complicated issues. Even the most logical mind tends to lean toward emotional thinking during times of stress.
You may have already experienced this. Think back to the appointment at which your veterinarian gave you the diagnosis of cancer. Can you remember the details of what your veterinarian advised? Or do you just remember hearing the word "cancer?" Some people just remember the sweat on the vet's forehead, or the color of their scrubs. Others remember that they're supposed to feed a specific diet, but not the name of the recommended oncologist.
Keep this critical fact in mind: when you are under great stress, your brain has an instinctive tendency to make automatic decisions without processing all the available information and without consulting your brain's center of logic. Managing your stress levels by managing your emotions can help you to avoid automatic, faulty decision-making.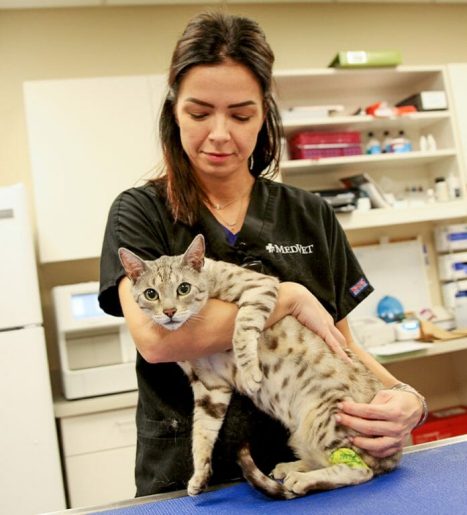 Keep a Normal Routine
What makes your pet's day? Is it a swim in the local pond, sunbathing on the front porch, a long walk in the woods, or just snuggling up with you? Fun activities like exercising, walks, and playtime will help maintain a healthy mindset for both you and your pet. Our pets like routine. It helps them stay active and engaged, especially if they must make many visits to the veterinarian for treatment. When your animal cannot enjoy their favorite activities, or those favorite activities cause more discomfort, their quality of life is compromised.
Understand the Financial Impact of Your Pet's Cancer
Medical care for pets can be costly. If you have pet insurance, now is the time to use it. Alternative options include CareCredit, a financing option available for veterinary care. You may also consider crowdsourcing through public fundraising websites. Finally, some pet support organizations may be able to help if you are unable to afford the treatment.
Be Hopeful and Realistic
Our pets need us, and we need them. Although some animals may experience transient discomfort from therapy, treatment for most patients is accomplished without major distress or taking away from your pet's enjoyment of life. Just because your pet was diagnosed with cancer does not mean its life is immediately over. Your commitment to your pet and your veterinary care team's dedication to providing state-of-the-art care will work together to keep your pet as happy as possible.
Learn more about MedVet's board-certified specialists as well as our medical oncology services and radiation oncology services on our website. Our teams have worked with family veterinarians to help thousands of pet parents navigate important care decisions, and we are here for you.
By Laurie Maxwell, LCSW |