Veterinary Dentistry & Oral Surgery
Good oral health is more than just keeping the teeth and gums healthy – it affects your pet's overall wellbeing. Pets may show signs of dental or oral disease like bad breath, obviously damaged teeth, and swelling in and around the mouth. Others may show subtle signs like a disinterest in toys, dropping food, or decreased activity. Other pets may not show any outward signs of pain or discomfort. Although your family veterinarian checks your pet's mouth as part of routine exams, there may be times they will refer you to a veterinary dentist who specifically trains for years in animal dentistry.
Why Choose MedVet Dentistry & Oral Surgery
Our dentistry and oral surgery team, many of whom are board-certified, are experts in diagnosing and treating dental diseases, injuries, and other oral conditions such as oral tumors, jaw fractures, and palatal defects (cleft palates), among others. They are dedicated to optimizing your pet's health by working with your family veterinarian to develop an individualized treatment plan for every patient.  
In our state-of-the-art facilities, your pet receives the most advanced therapies and procedures from a team consistently at the forefront of dental care, research, and technology. This experience and expertise make us a preferred partner for many family veterinarians.  
What to Expect During a Dentistry Consultation
When you schedule your appointment, you'll be asked to pre-register. Our team will also provide information about how to prepare, including making sure your pet has not eaten (if fasting is required) or bringing a list of their medications. 
During your pet's consultation, our veterinary dentistry team will review your pet's medical records from your family veterinarian and discuss your pet's lifestyle and health history with you. They will examine the oral cavity, check for tartar buildup, the health of the gum tissue, the symmetry of your pet's face and jaw alignment and muscles, as well as check the lymph nodes and salivary glands. 
Your dog or cat may need advanced testing, such as bloodwork or X-rays, or cleaning requiring anesthesia. We will discuss your pet's diagnosis and treatment plan and answer any questions you may have. After your visit, we'll let your family veterinarian know about the visit, including the care plan options, so that together, we can make sure your pet's care is optimally coordinated and delivered by all members of their care team. 
Dentistry & Oral Surgery Services
Crown reduction and vital pulp therapy
Treatment of fractured, discolored, or abscessed teeth
Treatment of gingivostomatitis
Treatment of tooth resorption
Extraction of fractured, diseased, dislocated, or impacted teeth
Jaw fracture repair
Removal of oral growths/tumors
Repair of oronasal fistulas
Repair of palatal defects
Treatment of salivary gland cysts
Bite evaluation
Deciduous teeth extraction
Dentinal bonding
Orthodontics
Guided tissue regeneration and bone grafting
Mucogingival surgery
Periodontal therapy (tooth scaling and polishing)
Root planning
Cast metal crowns
Composite restoration of enamel defects
Dentinal bonding of teeth with enamel dysplasia (hypoplasia)
Not all services are available in every hospital. Contact your local MedVet for services for that location.
Dentistry & Oral Surgery Resources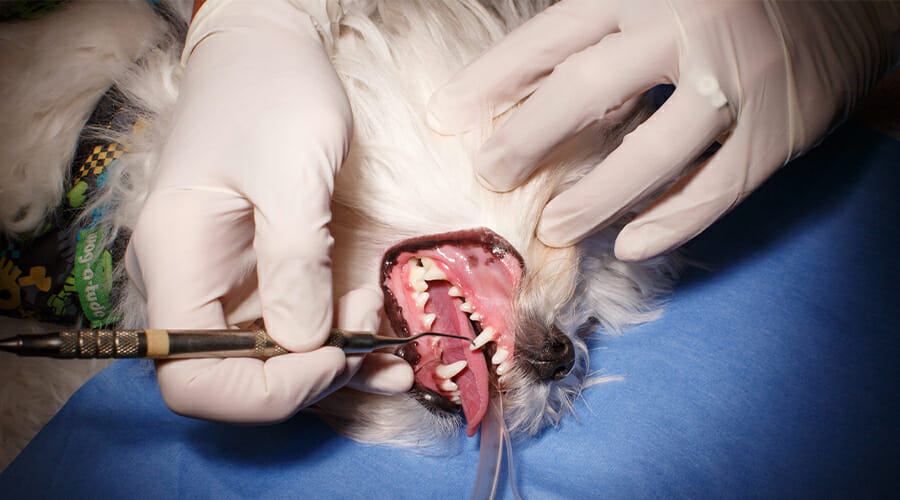 Article