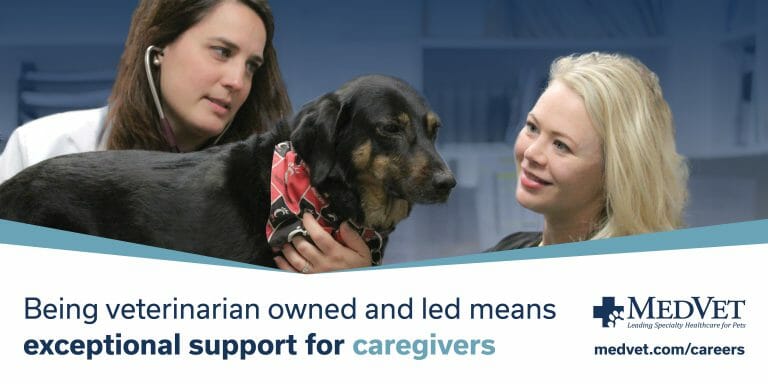 ---
MedVet is the largest family of emergency and specialty hospitals owned and led by veterinarians. This distinction means we place the needs of our team first and have unique insight into the challenges our caregivers face and what's needed to provide the best specialty and emergency medicine every time, every day, to everyone.
We Are MedVet also means:
We believe the integrity of our profession is worth preserving.
As veterinarians and veterinary technicians, we have sworn an oath to use our knowledge and skills for the benefit of society through the provision of pet care. We've embraced this responsibility with unwavering passion for more than three decades. Importantly, our team upholds the ethics of our profession and embraces our privilege to enhance the lives of our patients, their loving families, and the veterinary community. We also invest in the future of our profession through specialty training and mentorship programs that are cultivating the next generation of technicians, ER doctors, and specialists to meet the needs of the communities we serve and love.
We come together to form a community of excellence.
We are a well-coordinated, like-minded, and collaborative team of veterinary professionals working across the United States. Our highly trained, credentialed team of veterinary professionals has specialized knowledge, advanced experience, and a depth of expertise that took years to assemble. Together, we apply a best-practice approach while recognizing the importance of individualized care in achieving the best possible patient outcomes. Patients feel our caring. Clients trust our recommendations. Referral partners rely on us as a true extension of their care team. Such connectivity is only possible when there is shared experience, aligned objectives, and a common purpose. Working under a common name and using the same phone systems and software helps, too!
We offer holistic benefits supporting personal and workplace wellbeing.
All MedVet caregivers have access to resources ranging from paid time off, a confidential Employee Assistance Program, and paid parental leave, to wellbeing rooms, mindfulness and counseling apps, compassion fatigue training, and an Employee Relief Fund. We make meaningful investments in facilities and equipment every year. We're continuously enhancing technology and workflows to make it easier for our team to deliver great care and service. We're doubling down on our dyad leadership model and creating brand-new roles to ensure the right work is being done by the right team members at the right time. And, because we've been there, we know how important it is to remove obstacles and alleviate administrative tasks. Our team of talented professionals in Experience, Finance, Human Resources, IT, Marketing, and Operations is actively engaged, allowing our caregivers working the front lines to focus on their first love (and what they do best) – caring for our patients.
We make financial security and a more certain future possible.
Offering sign-on bonuses, competitive compensation, student debt repayment, and 401k match helps our caregivers live their best lives today, tomorrow, and in the years to come. So does covering 70% of the cost of family healthcare benefits. Additionally, our doctor's compensation model is well-equipped to meet present-day needs while helping our doctors build long-term, sustainable wealth throughout their career, and beyond. Doctors and other team members can also choose to become an owner; investor events are offered at least annually!
We provide meaningful ways for our team members to own and advance their career.
Whether it's the freedom to innovate, advance care and service delivery, or take action to influence their professional and personal development, we support building dream careers, not just jobs. Our caregivers are encouraged and empowered to apply what they know and share their expertise. We offer cross-training and scholarship opportunities, unlimited continuing education, and mentorship to nurture growth and advance our profession.
We Can Include You!
To learn more about the exciting opportunities to join the team Leading Specialty Healthcare for Pets, visit medvet.com/careers.