Emergency Medicine, Urgent Care
The Range of Veterinary Care Options Includes Urgent Care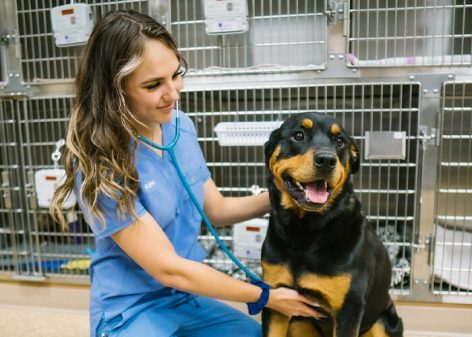 As a pet parent, you want to provide the best care for your pet to ensure they have a long and happy life with your family. It can be worrisome when they aren't feeling well. Fortunately, MedVet has a full range of options for veterinary care to support your family. Knowing what type of care to seek, and when, is important and can be lifesaving. Read on for a better understanding of how MedVet partners with your family veterinarian by providing Urgent Care, Emergency Care, and Specialty Care.
Rely on Your Family Veterinarian for General Wellness, Preventative Care, and First Contact for Urgent Medical Problems
Your family veterinarian is key to supporting and protecting your pet's overall health and wellbeing. Regular visits at least annually have been shown to detect many health problems early so that treatment can begin sooner. Some of the more commonly provided services available from your family veterinarian are intended to help your pet live their best life. These include:
Annual checkups for early disease prevention.

Your family veterinarian is highly trained and capable, and your first line of defense in understanding your pet's health. For example, w

hether it's a bacterial infection, a problem with their weight, or deteriorating joints in senior pets.

Flea, heartworm, tick, and other preventative medications maintain comfort and health, as do v

accines

like distemper (rabies), parvovirus, and adenovirus.

Many pets dislike having their teeth brushed, so

routine dental check-ups

from your family veterinarian are an important part of your pet's overall health regimen. Your family veterinarian will

check your pet's teeth, clean them as necessary, and ultimately prevent or manage any dental problems.

Spaying or neutering

your pet is yet another important general health and wellness service provided by your family veterinarian which serves to reduce the likelihood of certain cancers, calm behavior, and reduce the number of unwanted pets.
Urgent Care and Emergency Care Services Attend to Unexpected Injuries and Illnesses When Your Family Veterinarian is Unavailable
Urgent Care
Urgent Care offers patients a skillful evaluation of those unexpected, non-life-threatening conditions when your family veterinarian is unavailable to offer immediate care. As in human healthcare, urgent care fills the gap that exists between wellness care and emergency care so patients can Get In, Get Out, and Get Better.
Most veterinary urgent cares are open during times when your family veterinarian is booked with general wellness and preventative care appointments or closed. Our urgent care hours extend into the evening and include weekends and holidays to provide caring support when your family veterinarian is closed or unavailable.
Visit Urgent Care for:
Anal gland scooting or licking

Back or neck pain

Bad breath

Blood in stool or urine

Coughing

Diarrhea

Ear discharge

Excessive drinking

Excessive scratching

Eye discharge, squinting

Fever

Frequent urination

Head shaking

Hiding or whining

Lethargy

Limping or lameness

Lumps and bumps

Not eating or drinking

Oozing incision

Shaking

Skin irritations: itching, hives, hot spots, rashes

Vomiting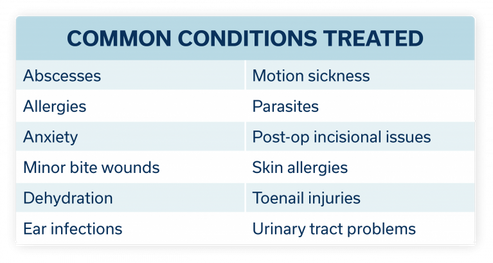 Emergency Care
Emergency Care is for unexpected, more life-threatening medical injuries or illness when your family veterinarian is unavailable or believes a referral to emergency care is in your pet's best interest.
Most veterinary emergency hospitals are open to provide care 24/7, every day of the year. Others are open after hours (i.e., nights, weekends, and holidays) to provide care and support when your family veterinarian is closed or unavailable. Appointments are not typically needed, but we do recommend you call ahead to alert the emergency care team of your arrival.
Visit the ER for:
Allergic reactions

Any trauma, falls, hit-by-car

Bite wounds

Bloated or painful belly

Breathing problems

Broken bones

Collapse or weakness

Diarrhea

Excessive vomiting or gagging

Exposure or ingestion of dangerous foods, medications, or poisons

Heatstroke or hypothermia

Inability to deliver puppies or kittens

Lacerations or bleeding wounds

Lameness

Large or penetrating wounds

Lethargy

Loss of appetite, weight loss

Loss of consciousness

Persistent constipation

Severe bruising or bleeding

Seizures

Staggering, stumbling, head-tilt

Sudden blindness

Swallowing of foreign objects
Specialty Care is Another Veterinary Care Options that Provides Advanced Care for Complex Illnesses and Significant Injuries
Sometimes your pet may have a more complex illness or disease, or an injury requiring advanced care from a doctor that has advanced training, knowledge, and skills in a specific medical or surgical area. In these situations, as in human healthcare, you'll want to consult with a specialist.
Specialists have extensive post-veterinary graduate education and training in a focused specialty practice area and are equipped to provide advanced diagnostic testing and custom-tailored specialty care. These specialty practice areas include:
Anesthesia & Pain Management

Avian & Exotics

Cardiology

Critical Care

Dentistry & Oral Surgery

Dermatology

Internal Medicine

Oncology and Radiation Therapy

Neurology & Neurosurgery

Ophthalmology

Radiology

Rehabilitation and Integrative Medicine

Surgery
Pet owners can access our specialists through referrals from their own veterinarians or through our urgent care or emergency team's recommendations. Learn more about MedVet's specialties.
How Do I Know if My Pet Needs Urgent Care, Emergency Care, or Specialty Care?
There are a variety of veterinary care options, and you know your pet's habits, behaviors, and routine best. Whether the clinical signs are obvious, such as a bleeding wound or toenail, or more difficult to observe, such as eating less or hiding more, when something seems unusual, "off," or gives you that "something is just not right" feeling, trust your instinct and call your family veterinarian. If your family veterinarian is unavailable and you're concerned, seek the nearest urgent care or emergency care. If specialty care is needed, your family veterinarian will make a referral, or the urgent care or emergency doctor will make a recommendation for follow up care. You can find your nearest MedVet or WestVet location here.