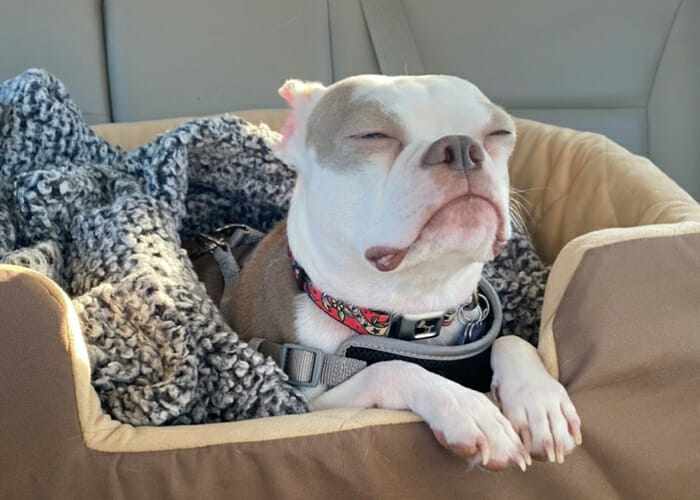 Americans take millions of trips every year. For many families, that vacation includes taking the family pet. If you plan to take your furry family member, consider taking these extra steps to ensure you experience safe traveling with pets.
Before You Travel with Your Pet
Decide if it's even best to bring your furry friend along. Is your pet anxious about traveling? What will you be spending your time doing at your destination? Think carefully about the travel time and your planned activities. If you'll be spending most of your vacation at places like museums and theme parks where your pet can't come with you, your pet might be happier in a kennel or with a pet sitter safe at home.
Check with Your Vet
Always check with your vet before you travel to ensure your pet is healthy enough for the trip. You may need updated health records depending on your mode of travel and your destination. And your veterinarian may be able to warn you of any safety concerns that you should be aware of at your destination such as insects or wildlife that you may not normally encounter.
A veterinarian checkup is especially important if you plan to fly. If you have an anxious pet, your veterinarian can offer suggestions to help your pet stay relaxed. Keep in mind that tranquilizers are usually not recommended for pets that are flying because they can interfere with their breathing and ability to control their body temperature at high altitudes.
Tips for Traveling with Pets by Car
Driving gives you the best opportunity to cater your time and travel plans. Even if you have pets who enjoy a ride around town, you'll want to take extra precautions for a longer road trip.
Take some practice rides.

This will help your pet get used to the car, and you can gradually extend your drive time with them. Be sure you're getting them used to the crate or harness you plan to use while you travel.

Schedule breaks.

Stop every two to three hours to give your pet a potty break and a chance to stretch their legs and play. Make sure to keep them on a leash or harness and walk in a safe area away from traffic.

Use seatbelts or carriers for safety.

Your pet should be in a carrier or harness in the back seat. An air bag deploying on your pet is dangerous.

Keep your pet inside the vehicle.

Don't allow your pet to put their head out the window as they can be hit with debris or catch a respiratory infection.

Never leave your pet alone in a parked vehicle.

The temperature can quickly change in a parked car to dangerous levels.

Monitor their food and water intake.

Keeping your pet hydrated is important so be sure you're traveling with fresh water and a bowl. You should also feed your pet but may want to feed them a little less than normal which can help if they experience any motion sickness or anxiety that could lead to gastrointestinal issues.

Keep them busy and comfortable

. Make sure to include a favorite toy or blanket, but don't fill the space in their crate with too many items. They should have room to stand up and turn around. A favorite toy can help alleviate anxiety and things like puzzle toys can help keep them occupied.

Discuss the use of anti-anxiety or relaxation medications for your pet with your veterinarian if you pet is very anxious when traveling.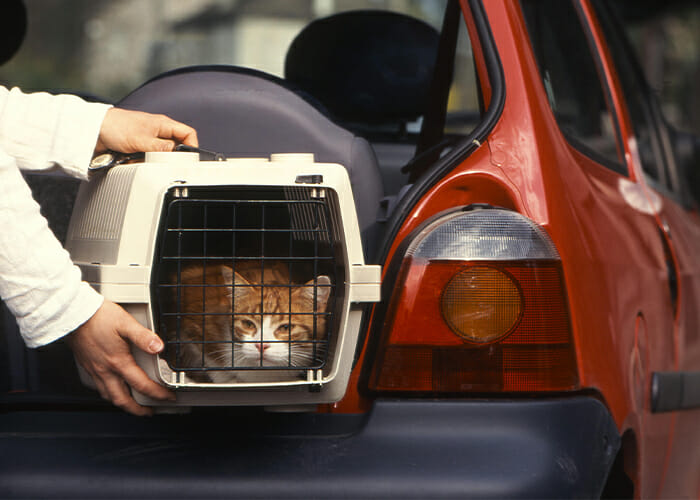 Tips for Traveling With Pets by Air
Check with the airline for any regulations, including what types and sizes of animals are allowed with you in the cabin. You may also need updated health records and should have those readily available during your travels. If your pet is too large to travel in the cabin with you, you'll want to take extra precautions.
Non-stop flights are best.

Flying directly to your destination cuts down on the overall travel time, the time separated from your pet, and the chances that your pet gets mishandled or stressed during layovers or transfers.

Consider the time and temperature during your travels.

In summer, mid-day flights will get much hotter in the cargo hold. But for a winter flight, you'd be better to travel in the middle of the day when it is warmest. And try not to fly when it's too busy, like during the holidays, as there can be longer delays that can impact your travel.

Get a USDA-approved crate and prepare it for your pet

. Be sure it's labeled with "Live Animal" and include your pet's name, your name, address, and cell phone number. Line it with towels or a blanket to help your pet stay comfortable. If possible, you can include a few ice cubes. This can help your pet stay hydrated without water spilling and making them wet and uncomfortable. Tape the leash on the outside of the crate so your pet doesn't get tangled.

Tell all airline employees that you're traveling with a pet in the cargo area

. You'll also want to carry a current photo of your pet in case of emergencies. As soon as you are reunited with your pet and are in a safe area, get them out of the carrier and examine them. If you have any concerns, visit a local veterinarian or emergency hospital right away.

Discuss the use of anti-anxiety or relaxation medications for your pet with your veterinarian.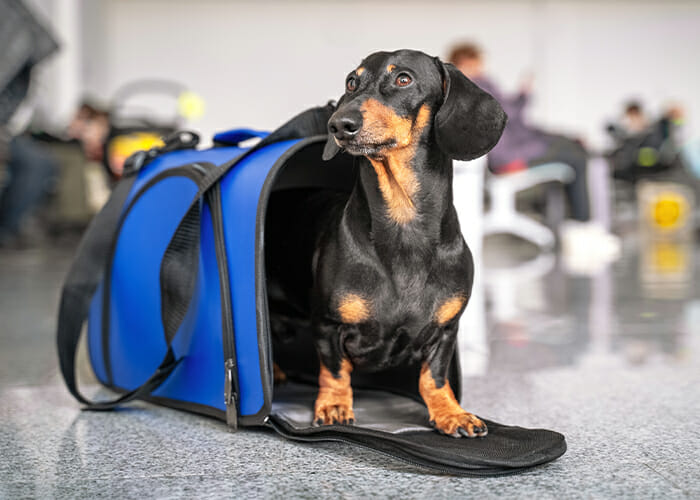 Find Pet-Friendly Destinations
You can take some time to search for pet-friendly hotels, restaurants, and attractions in advance. Confirm pet policies at your accommodations. Not every hotel or rental property is as happy to have your pet as you are. Ensure you look at any rental agreements for specific rules or regulations you need to follow during your stay.
You can also prepare a list of veterinarians or emergency pet hospitals near your destination. That way you can easily and quickly find a facility if your pet needs care. Check to see if there is a MedVet location near your destination.
How to Pack When Traveling with Pets
Comforts of home.

Be sure to bring a few favorite toys and your pet's bed can help them feel more at ease in a new location. You may also want to pack a few sheets or blankets to cover furniture at your destination.

Food and water.

You'll want to keep their diet consistent to help avoid any gastrointestinal issues. Ensure you have plenty of fresh water as well as their normal food and treats with you on your trip. And don't forget their bowls.

Identification and records.

Make sure to have a leash, collar, and updated ID tags. Pet records, including vaccination records, could be needed if you are planning to use a boarding facility at all during your trip. This is also a good time to check your pet's microchip and make sure your information is up to date.

Other pet care items

. Be sure to bring any needed grooming supplies, medications, and waste disposal items like a scoop, plastic bags, and portable cat litter tray. If you're headed to the water to relax, make sure you also have a life vest for your pet.
Your travels should be free from anxiety and full of fun. Following these tips for traveling with pets can help ensure that you and your pet enjoy your time together!
Sources: