In our second year of the MedVet Shelter Surprise, communities across the country banded to support the important work animal shelters and rescues are doing to save pets and find them loving homes. Out of thousands of nominations from across the country, 10 animal shelter and rescue organizations were chosen, and more than 170,000 votes were cast to determine our three winners.
"Throughout the contest, we've loved learning more about the wonderful shelters and rescues that are working throughout the United States to save pets and help them find their forever homes. There are so many amazing organizations, and it has been an honor to support them in our shared mission of helping pets and their loving families," said Dr. Linda Lehmkuhl, Chief Executive Officer of MedVet. "We hope these organizations benefit not just from the additional funds but also from the raised awareness and community support as people rallied to vote for them."
Shelter Surprise 2022 First Place Winner: Meridian Canine Rescue
The top prize of $2,000 went to Meridian Canine Rescue located in Meridian, ID, a suburb of Boise. The shelter is a nonprofit, no-kill canine rescue dedicated to giving homeless and owner-surrendered dogs a second chance. They have both a facility and a network of foster homes. They rely heavily on volunteers to help save pets. Meridian received 63 percent of the votes in the contest from their supporters.
"We were astonished to learn that we won, so much so that I asked our contact person to double check as we saw so many votes happening and we are a small shelter compared to the other shelters nominated, so we were humbly surprised by the support of our followers," said Karinna Lozano.
The shelter plans to use the contest winnings to help with funding for the Education Program for Inmates and Canines (EPIC) that matches dogs to the program where inmates work to train them 24/7 and ensure the dogs are ready to successfully become part of a family.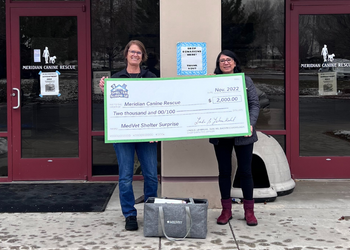 Second Place: Dallas Dog RRR
The runner-up was Dallas Dog RRR which is in Dallas, TX. The organization received $1,250. They had more than 16,000 votes to secure second place. Dallas Dog RRR works to rescue the hurt and abandoned, rehabilitate the broken, and reform the community through education to eliminate animal neglect. They are a foster-based rescue that counts on hundreds of volunteers who open their hearts and homes to give animals the best opportunity to be adopted.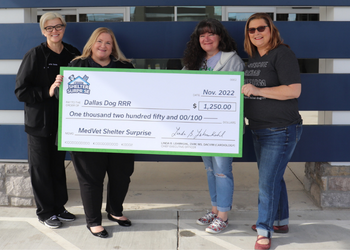 Third Place: Northshore Humane Society
The third-place winner was Northshore Humane Society in Covington, LA, and that shelter received $500. This shelter received 15,565 votes to claim the third spot in the contest. Northshore Humane is a nonprofit, no-kill animal shelter. They are one of the largest animal welfare organizations in the state of Louisiana.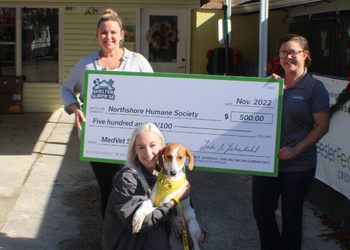 Other Finalists
Rounding out the group of finalists for Shelter Surprise 2022 who also received a gift basket of supplies were:
Asheville Humane Society in Asheville, NC
Cincinnati Animal CARE in Cincinnati, OH
For the Love of Cats in Commerce, MI
Paws Up 4 Rescue in Joliet, IL
Project Precious Rescue in Stamford, CT
Stop the Suffering in Columbus, OH
West Valley City Animal Shelter in West Valley, UT
At MedVet, we are grateful for these shelters, and ALL the shelters and rescues who are caring for pets and helping them find forever homes. We look forward to offering the Shelter Surprise in the fall of 2023!