Integrative Medicine, Rehabilitation
Six Questions with a Specialty Leader: Rehabilitation & Integrative Medicine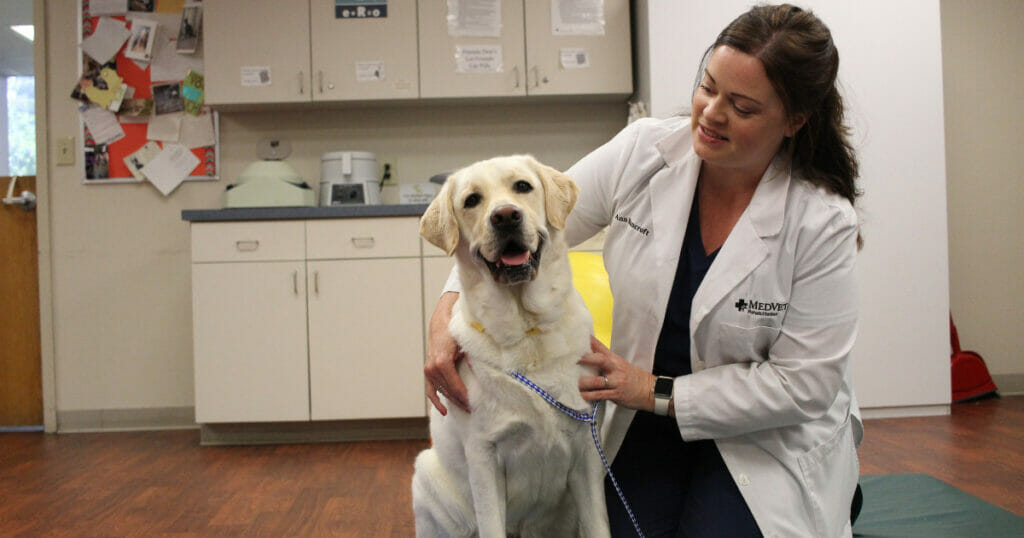 Dr. Ann Bancroft is a Certified Canine Rehabilitation Practitioner at MedVet Columbus. In addition to providing exceptional care for pets and their loving families, she serves as the Rehabilitation & Integrative Medicine Specialty Leader, fostering connectivity, communication, and collaboration among our entire team of rehabilitation and integrative medicine practitioners in MedVet hospitals across the U.S. 
Why did you choose to become a veterinarian?
From a young age I had a great love of all animals. I chose to become a veterinarian because I wanted to be an integral part of the relationship between pets and their families, educating and advocating for their health and wellbeing.
Why did you choose your specialty?
I chose to focus on Rehabilitation and Integrative Medicine because I wanted to help patients achieve the highest level of function and quality of life. I liked the idea of being able to offer more than just medication to decrease pain and improve mobility. Personal experience with integrative modalities further drove my desire to be able to provide those same treatments for companion and performance animals. I enjoy developing plans to help patients reach their potential when recovering from injury or illness, or staying conditioned for daily routines or sports.
What's one of your best memories of a patient along the way?
There are so many special memories. Some of the best are when we are able to help a patient that was once paralyzed walk again. It is difficult to think of a more rewarding feeling than to know that your work, and the family's dedication, have helped that pet become independent again. My certification and experience with laser therapy and chiropractic has allowed me to have the special opportunity to help a lion, koala bear, giraffe, and sea lion. Working closely with these animals and their care givers has been incredibly rewarding.
What accomplishment in your career are you most proud of?
I am most proud of growing our Rehabilitation and Integrative Medicine practice in Columbus. Today our team consists of four doctors and eight trained therapists. In addition to acupuncture, I am proud to have successfully been able to add chiropractic care. As a result, we have been able to help many patients perform and feel better. It is so wonderful to have direct collaboration with so many amazing specialists. It is a dream to be able to provide rehabilitation and integrative medical care in this setting.
What advice would you have for someone considering veterinary medicine and your specialty in particular?
Veterinary medicine can be a challenging and very rewarding profession. In my opinion, there is nothing better than having a job where you get to spend time with animals and also help them. There is a lot of physical work in the rehabilitation department, and you need to be a creative problem solver to be successful. Appreciation and knowledge of body movement and mechanics is important in order to prescribe successful therapy plans for patients.
What are you most excited about/proud of for the Rehabilitation and Integrative Medicine specialties at MedVet?
I am most proud of the wonderful team we have in our Rehabilitation and Integrative Medicine Department. You could not ask for a better group of individuals who pride themselves in patient and client care while also being enthusiastic about the therapies they provide. While providing the most current therapies and techniques, our team members work seamlessly alongside our talented doctors to help patients reach their goals. Some of our therapists have been in the department for many years. It is a wonderful feeling to know that you have an experienced team delivering therapies and treatments to your patients.
Get to know more about Dr. Ann Bancroft.
By Ann Bancroft, DVM, CCRP, cAVCA |