Radiology, Interventional Radiology
Six Questions with a Specialty Leader: Radiology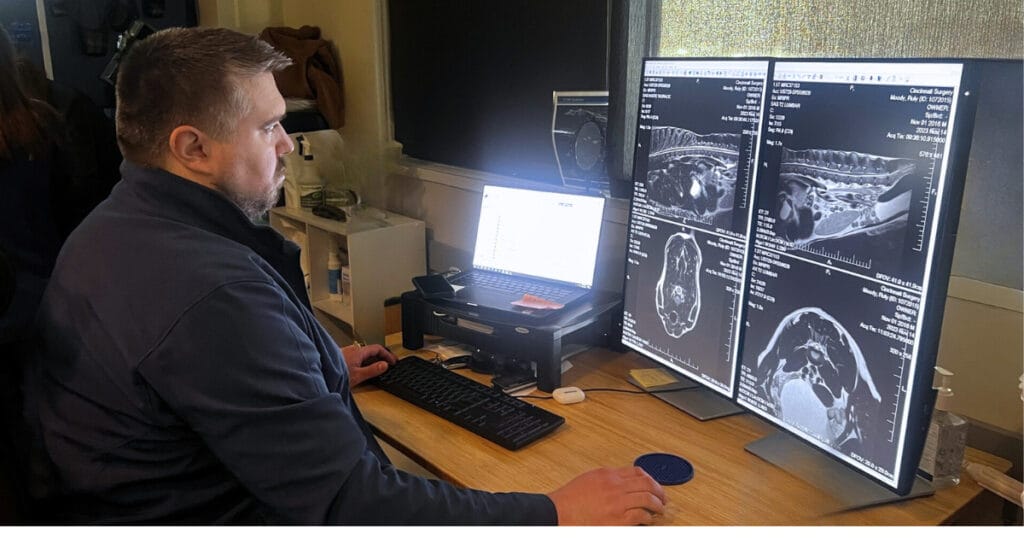 Dr. Chase Constant is a Board-certified Veterinary Radiologist at MedVet Cincinnati and MedVet Dayton. In addition to providing exceptional care for pets and their loving families, he serves as our Radiology Specialty Leader, fostering connectivity, communication, and collaboration among our entire team of radiologists in MedVet hospitals across the U.S.
Why did you choose to become a veterinarian?
I grew up in a family that loved animals and we always had dogs around while I was growing up, fostering an early bond with them. I was always fascinated by tagging along for vet visits as a kid and eventually knew I wanted to help animals for a living.
Why did you choose your specialty?
I actually thought I wanted to be a surgeon when I started vet school but once I started seeing what a radiologist did, I became intrigued by the puzzle and problem-solving aspect of diagnostic imaging. I am happy with my decision to switch to the "dark side!"
What's one of your best memories of a patient along the way?
I recently did a CT on a patient seeing our ophthalmologist for possible trauma to his eye. On CT, we were able to find a 2-inch stick that was stuck behind his eye. After consulting with the ophthalmologist and surgeon, they were able to successfully remove the stick and he has recovered great.
What accomplishment in your career are you most proud of?
I am involved in a residency program that trains new radiologists. We currently have had three residents go on to pass boards and become great boarded radiologists. Passing on the knowledge and experience I have gained in my career to aspiring radiologists has been a great experience.
What advice would you have for someone considering veterinary medicine and your specialty in particular?
Take the time to shadow veterinarians early on and see what it really entails. And try to have broad exposure to different types of veterinarians and specialists. When I was in school, radiology was not seen as a popular specialty to pursue but it has been a fantastic career path.
What are you most excited about/proud of for the radiology specialty at MedVet?
Radiology is a specialty that really takes advantage of technology and telemedicine benefits allowing us to provide our expertise to our colleagues across the country in all MedVet locations.
Get to know more about Dr. Chase Constant.
By Chase Constant, VMD, DACVR |