Winners Announced for MedVet's Shelter Surprise – Meridian Canine Rescue Wins Top Award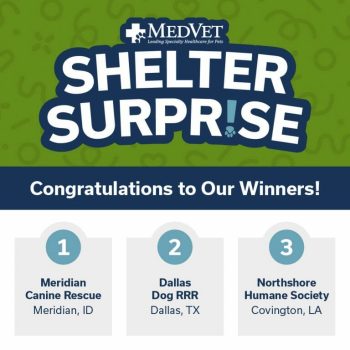 It's National Animal Shelter and Rescue Appreciation Week, and the votes are in for MedVet's Shelter Surprise. The contest is awarding three deserving shelters cash prizes to support the important work they do to save pets. Out of hundreds of nominations, 10 animal shelter and rescue organizations were chosen, and more than 170,000 votes were cast to determine the winners.
The top prize of $2,000 goes to Meridian Canine Rescue in Meridian, ID. They received more than 50 percent of the votes in the contest from their supporters. They are a nonprofit, no-kill canine rescue dedicated to giving homeless and owner-surrendered dogs a second chance through their facility and network of foster homes.
The runner-up is Dallas Dog RRR in Dallas, TX. The organization will receive $1,250. And the third-place winner which will receive $500 is Northshore Humane Society in Covington, LA.
"Throughout the contest, we've loved learning more about the wonderful shelters and rescues that are working throughout the United States to save pets and help them find their forever homes. There are so many amazing organizations, and it has been an honor to support them in our shared mission of helping pets and their loving families," said Dr. Linda Lehmkuhl, Chief Executive Officer of MedVet. "We hope these organizations benefit not just from the additional funds but also from the raised awareness and community support as people rallied to vote for them."
About MedVet
MedVet is the leading veterinarian owned and led family of specialty and emergency hospitals and urgent cares dedicated to delivering exceptional care and a deeply supportive experience to pets and their loving families, referring veterinarians, and team members. For more than 30 years, MedVet's empathetic, insightful, and driven team of expert caregivers has helped the organization grow to be the preferred choice for high quality, compassionate care, proudly serving more than 500,000 patients each year in communities throughout the United States. To learn more about MedVet and its mission of Leading Specialty Healthcare for Pets, visit medvet.com.