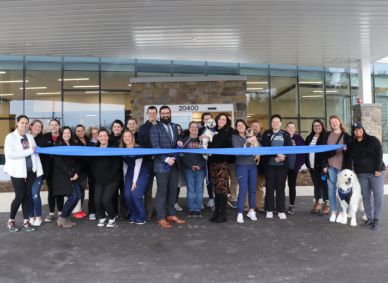 MedVet, a leader in emergency and specialty veterinary healthcare, has completed construction for MedVet Cleveland's new hospital. The new hospital at 20400 Emerald Parkway opened on Monday, February 20, 2023. Construction of the 35,000+ square foot state-of-the-art veterinary hospital began over a year ago.
"Our new hospital is the most state-of-the-art and largest veterinary specialty and emergency facility in the Cleveland area," said Dr. Dustin Beauchamp, Medical Director. "It will allow us to care for even more patients and their loving families, while giving our caregivers a wonderful place to work and expand their services. This is a tremendous opportunity to serve our community and the veterinary professionals in Northern Ohio."
In addition to 24/7 Emergency Medicine services, MedVet Cleveland offers specialty services in Anesthesia & Analgesia, Medical Oncology, Neurology & Neurosurgery, Ophthalmology, Radiology, and Surgery.
The new location welcomes veterinarians who are experts in their field bringing years of experience, expertise, and compassion to focus on achieving the best possible patient outcomes. The local team is led by Dr. Dustin Beauchamp, Medical Director, and Tessa Corthell, Hospital Director.
The specialty team includes Drs. Amanda Jurkoshek, Charles McBrien, Rochelle Prudic, Rose Vogel, and Sarah Shane. The ER team includes Drs. Sarah Husseini, Julia Maitland, Melissa Marmaduke, Sarah McManis, Amy Parrish, Mary Ryan, Elizabeth Shull, Ericka Skillman, Debra Sloan, Wayne Turner, Alexa Weiland, Anastasia Young, and Benjamin Zucker. In all, the facility is staffed by more than 100 full-time and part-time team members with plans to bring on additional doctors and clinical services support team members in 2023.
Pet owners can speak with their family veterinarian to obtain a referral for specialty care. Emergency services are available 24/7 for walk-ins; no appointment is necessary.
About MedVet
MedVet is the leading veterinarian owned and led family of specialty and emergency hospitals and urgent cares dedicated to delivering exceptional care and a deeply supportive experience to pets and their loving families, referring veterinarians, and team members. For more than 30 years, MedVet's empathetic, insightful, and driven team of expert caregivers has helped the organization grow to be the preferred choice for high quality, compassionate care, proudly serving more than 500,000 patients each year in communities throughout the United States.