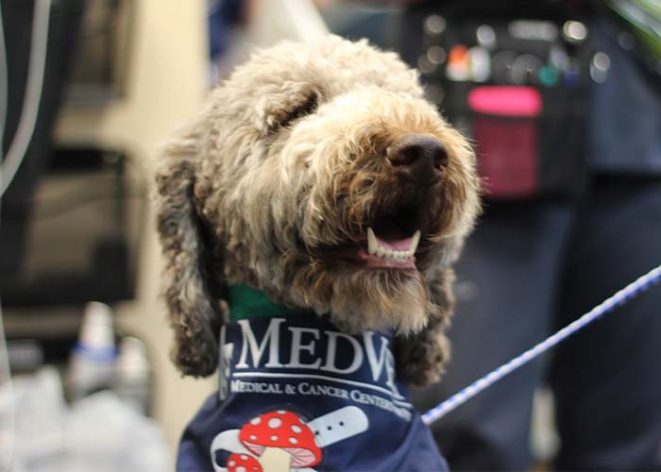 It started as a bit of joke. Murphy, a young Goldendoodle, threw up on the floor at home, and Mr. Fish took a photo and sent it to his wife to let her know Murphy "left her a present." This photo of vomit ended up saving Murphy's life.
Within a few hours, Mr. Fish realized it was more serious than an upset stomach. Murphy started to go downhill. She was noticeably altered and having problems walking, so her family brought her to MedVet Lexington to get checked out. The team knew it was something she had eaten, but figuring out what she had eaten was the real challenge. When the family shared the photo, they saw a partially digested mushroom and called ASPCA Poison Control to help identify it. At first take, they identified that it was most likely a mushroom from the Amanita family. So, the team hospitalized Murphy overnight to provide gastrointestinal support.
A Turn for the Worse
Early Friday morning, Murphy took a turn for the worse with increased lethargy, diarrhea, and dropping blood pressure and glucose levels, eventually slipping into a coma. The team immediately started pressers to help control blood pressure, telemetry to measure her heart rate, and started giving her plasma. Murphy was now in critical condition, and the team contacted Poison Control a second time. They researched again and determined that it was a different subspecies from the Amanita family, Amanita phalloides, commonly referred to as the death cap mushroom.
In the fall, conditions are ripe for many mushroom species to begin appearing everywhere. Some are perfectly safe, others cause minor gastrointestinal issues, and others, like the death cap mushroom, are extremely dangerous. The death cap mushroom is an invasive species in the United States and is also the number one cause of fatal mushroom poisonings worldwide.
This new information, along with Murphy's declining health, prompted the care team to contact Critical Consults DVM for a second opinion. Unfortunately for Murphy, the prognosis wasn't good. There were only a handful of reported cases where a pet had survived ingesting this species of mushroom. Doctors there had little knowledge of a case like this and had to perform additional research. Due to high toxicity and the expense of the treatment, there is very little literature available. They discovered one paper, "Clinical recovery of 5 dogs from amatoxin mushroom poisoning using an adapted Santa Cruz protocol for people," written in California by Ryan Goupil, Megan Davis, Abigail Kaufman, Diane Roberts, and Todd Mitchell. This resource would guide their treatment approach, which included plasma.

Teamwork in Action
In most cases, when plasma is given, the pet receives one transfusion of a unit or two. But Murphy was on a continuous rate infusion (CRI) for several days, which meant more plasma was needed, and plasma is difficult to come by. Most hospitals have only a few units on hand, making the item difficult to spare. Fortunately, MedVet's family of emergency and specialty hospitals is a well-connected community of excellence with teamwork being one of their core principles.
The MedVet Lexington team started reaching out to their colleagues for support. "It's difficult to source plasma, and finding it was even more difficult because it was the weekend," said Dr. DeAnna Cotton, Medical Director at MedVet Lexington. "But our team was determined and our MedVet colleagues are always supportive. We were able to find the plasma Murphy needed at MedVet Cincinnati and MedVet Chicago."
The Lexington team drove the three-hour round trip to Cincinnati to pick up plasma. Chicago was a different story. Located 374 miles away, the distance presented another challenge. Fortunately, Mr. Fish is a licensed pilot, so he flew to an airport outside the city where a MedVet Chicago team member met him with the plasma.
Other help was provided throughout the week thanks to collaborations within both the veterinary and human medical professions. Dr. Meg McBrien, a former MedVet doctor who is now a traveling internist, came twice through the week to drain Murphy's gall bladder. The University of Kentucky's Chandler Medical Pharmacy provided Octreotide, a human medication that reduces gall bladder contractility. Without this medication, the gall bladder would have continued to release the mushroom enzymes. This would have caused further damage to her as the toxins cycled through her gastrointestinal system.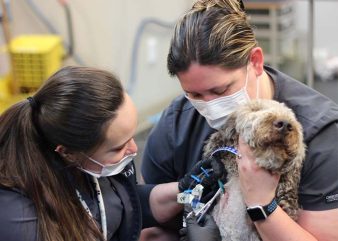 Heading Home
Meanwhile, Murphy's family remained hopeful and came to sit with her twice a day for as long as time would allow. On Monday, Murphy started wagging her tail and seemed to be turning the corner. By Thursday, a week after the initial intake, Murphy was happily headed home. "We really didn't think last week that she was going to come home," said Mrs. Fish. Since then, Murphy has been back for some final bloodwork, showing that she is now free and clear.
"If Murphy was willing to fight, and her family was willing to fight, so were we. It didn't matter how tired we were, we were determined to make this happen and never give up on her. Our entire team at MedVet Lexington cared for Murphy at one point or another, and she captured everyone's hearts," said Dr. Cotton.
Murphy's story of survival is special for many reasons. Not only is she just one of six documented survivors of death cap mushroom poisoning, but her determination to fight for her life combined with the support of a loving family and expert, well-coordinated caregiving team shows how teamwork, leadership, and compassion (TLC) makes a difference. In this case, TLC saved Murphy's life.