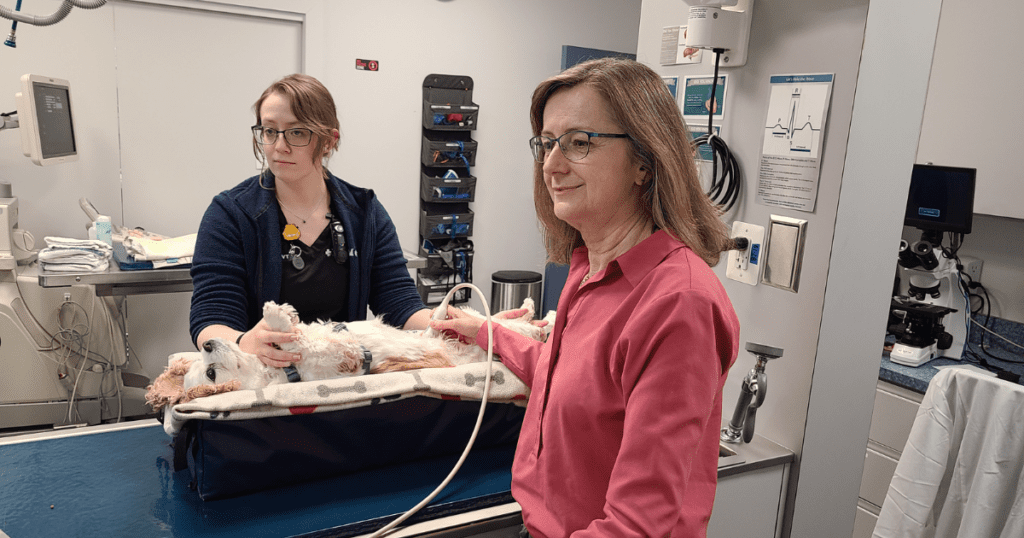 Dr. Sybille Miller is a Board-Certified Internal Medicine Specialist at MedVet Northern Virginia. In addition to providing exceptional care for pets and their loving families, she serves as our Internal Medicine Specialty Leader, fostering connectivity, communication, and collaboration among our entire team of internal medicine specialists in MedVet hospitals across the U.S.
Why did you choose to become a veterinarian?
I chose to pursue a career in veterinary medicine to provide a voice for and advocate for companion animals. I was also drawn to the opportunity to build relationships and connect with people who share the common goal of caring for dogs and cats. As a veterinarian, I have the chance to make a positive impact on the lives of both animals and people, which can be incredibly rewarding.
Why did you choose your specialty?
The specialty of Internal Medicine allows me to apply problem-solving skills gained through my training in chemical engineering. In Internal Medicine, we face complex, multifactorial medical problems. I work efficiently and tirelessly to get answers, putting all the pieces of the medical and social puzzle together. My goal is to start treatment and improve caregivers' and my patient's quality of life ASAP. Because most of the diseases are chronic, I work long-term with families, building long-lasting and very rewarding relationships.
What's one of your best memories of a patient along the way?
A favorite patient of mine was a 6-month-old female Husky puppy who was suffering from an extremely severe intestinal illness. Euthanasia was initially recommended. Her owners, who were graduate students at the time, were deeply attached to her and sought my help. After careful assessment and intensive therapy, we were able to diagnose and control her disease. I have been able to serve as her gastroenterologist for life, witnessing the joyful events of life. Her journey included being the star at her parents' wedding on the beach and welcoming new additions to the family (holiday snapshots!). Being entrusted with the care of such a beloved pet is an honor and a true joy.
What accomplishment in your career are you most proud of?
In our world of COVID challenges, I most treasure the accomplishment of maintaining and pursuing my passion for veterinary medicine long term. I am fortunate to be a part of an amazing team for a company which values wellbeing. I cherish my healthy work-life balance (always a work in progress!) and the opportunity to pay it forward by assisting others to achieve the same. I am fulfilled daily by opportunities to do small things with great love.
What advice would you have for someone considering veterinary medicine and your specialty in particular?
First, follow your passion and find a kind and empathetic team who shares your passion. Second, assess whether you can meet the day-to-day demands of the job and maintain an excellent quality of life long-term. Internal medicine can be emotionally challenging due to the close bonds developed with clients and pets, the severity of chronic illness, and the loss of patients.
What are you most excited about/proud of for the Internal Medicine Specialty at MedVet?
What fills me with the greatest sense of pride is the culture within our organization. We prioritize wellbeing. This means supporting each other in our professional growth and recognizing the compassion fatigue which goes with our dedication. We recharge by sharing our professional adventures and the fun of professional growth with the opportunity to participate in clinical trials, attend didactic rounds, and engage in roundtable discussions, among other things. Thanks to this culture, we thrive both as individuals and as a team, which is something truly special.