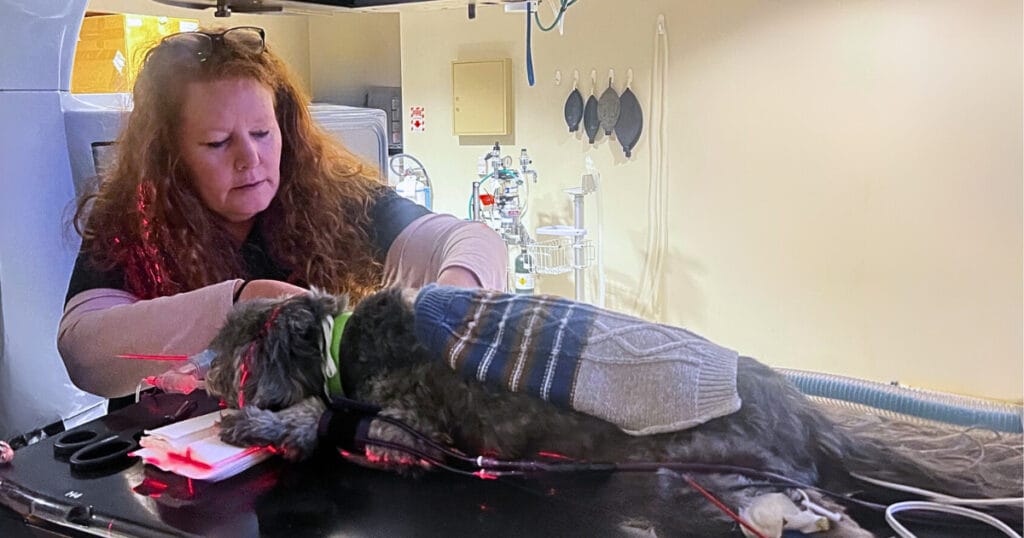 Dr. J. Margret Rogers is a Board-certified Veterinary Radiation Oncologist at MedVet Cincinnati. In addition to providing exceptional care for pets and their loving families, she serves as our Radiation Oncology Specialty Leader, fostering connectivity, communication, and collaboration among our entire team of radiation oncologists in MedVet hospitals across the U.S.
Why did you choose to become a veterinarian?
I was always interested in science and grew up on a small farm. I had a lot of childhood experiences taking care of sick or injured animals and it was an easy normal progression.
Why did you choose your specialty?
I was in advanced physics classes throughout high school and even participated in a young scientist program at Fermilab National Accelerator. My interest in veterinary medicine and physics made Radiation Oncology a natural choice.
What's one of your best memories of a patient along the way?
I remember the patients like Benny who don't have many therapy options left and with a short course of radiation they can have six months of pain-free survival. It makes all the long days and tough work worth it.
What accomplishment in your career are you most proud of?
A very strange moment as a veterinarian. While practicing as a general practitioner, I neutered a coyote and squirrel on the same day.
What advice would you have for someone considering veterinary medicine and your specialty in particular?
I would advise them to take some time to become a well-rounded vet before they specialize if they can. I enjoyed each phase of my veterinary career (including being an equine vet and a general mixed-animal practitioner), and I think it has made my career as a specialist unique and insightful.
What are you most excited about/proud of for the radiology specialty at MedVet?
I am most proud of starting a team from the ground up. My radiation oncology team did not have any trained personnel when we started, and in less than a year we are a solid, effective, and productive team able to treat a large number of patients.
Get to know more about Dr. J. Margret Rogers.
By J. Margret Rogers, DVM, DACVR (Radiation Oncology) |